Allaahum-ma an-tas-salaamu wa min-kas-salaamu, tabaarak-ta yaa dhal-jalaali wal-ikraam
O Allah! You are the bestower of peace, and from You comes peace. Blessed are You, O Lord of Glory and Honor.


Du'a qunoot: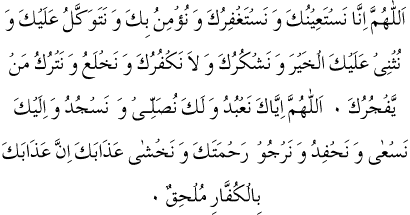 Allaahum-ma in-naa nasta'eenuka wa nastaghfiruka wa nu'minu bika wa natawak-kalu 'alaika wa nuthni 'alaikal-khair wa nashkuruka wa laa nakfuruka wa nakhla'u wa nat-ruku ma(n)y-yafjuruk. Allaahum-ma iy-yaaka na'budu wa laka nusal-li wa nasjudu wa ilaika nas'aa wa nah-fidu wa narju rahmataka wa nakhshaa 'adhaabaka, in-na 'adhaabaka bil-kuf-faari mul-hiq.
O Allah! We ask Thy help and ask for Thy pardon and believe in Thee and rely upon Thee. And we praise Thee in the best way and we thank Thee and we are not ungrateful to Thee. And we cast off and leave one who disobeys Thee. O Allah! Thee alone we worship and to Thee do we pray and prostrate. And to Thee do we turn in haste. And we hope for Thy blessings, and fear Thy punishment. Truly Thy punishment is for the disbelievers unavoidable.